Today we are going to write a Review on Computta and We are already using ComputtaSmart Miner and we did not tell you about exact earning it's complicated.
Salaam beautiful peoples!
Today we are going to write a Review on Computta and We are already using
Computta Smart Miner
and we did not tell you about exact earning it's complicated. And read full article for knowledge and Join Computta with given
link
and sit back and earn mBTC/bitcoin. :)
Computta - Smart Cryptocurrency Mining PC Application?
Computta.com is a first of a kind service created by cryptocurrency professionals to enable anyone and everyone's computer to make digital money for their owners. It is the first service which provides simple two-click cryptocurrency mining application available for anyone to use on any computer.
Computta Product Line:
Turn Your Computer into a 24X7 Money Generator. 100% Autopilot. 100% FREE.
Everyone's Invited!
Also Read
:
5 Best USB Bitcoin Miners In 2018 [USB ASIC Miners]
[post_ads]
So What Exactly Computta Is?
Computta Smart Miner and our server-side software algorithms will do everything in the background for you. Your earnings will be converted and stored in Bitcoin – the most popular and most reliable cryptocurrency. We will also use the current exchange rates to show you your earnings in USD for convenience.
Computta: offers the only real 100% autopilot method to generate money from your computer and laptop just by installing a "two-click" software. Nothing else needed. No ads, no clicking. no skills needed. 100% Free. Ever. Everyone's Invited! Nothing is being sold to retail customers, and consequently, there is no possibility for any retail sales activity.
The only thing that affiliates for
Computta Smart Miner
have to offer is the membership itself, and if/when someone does decide to join as an affiliate, they are given software that they are told to download & install, "on your computer and all computers/laptop devices that you own or control."
Computta's smart miner software supposedly mines bitcoin, and according to the company, it also "Checks your stats right in the application/software for the device you run it on".
Pause the application or even switch into a "Smart Mode".
Increase/decrease application's power depending on how much you use your computer at the moment.
This means that Anyone with a computer can Join Computta, download our super-simple smart mining application and start generating mBTC on their computers - all within 3-5 minutes flat.
ComputtaFacts:
An average computer generates $22.80 per month | A gaming computer generates $78 per month!
Average member invites 6 personal referrals | In 3 months they generate $280/mo commissions!
Average member with 50 personal referrals will generate a referral network of 2960 sub-affiliates!
Computta Features:
Two-Click Setup:
Setup is just a "two-click" process and will take only 3 minutes, including benchmarking time!
Installs In Three Minutes:
The software is easy to download and install. It also comes with a "
two click setup
". A benchmark trial will run during the installation process.
100% Automated:
After installation, the software runs in the background. It's invisible and 100% automated right out of the box, with no tech skills needed whatsoever. Whenever your computer is on, the software will run.
Works On 95% Of Windows PCs:
Computta Smart Miner application is compatible with up to 95% of all Windows PCs.
100% Free Forever:
Computta's developers claim their Smart Miner will be 100% free forever, and that there are no hidden fees, no costs for users, and no costs for their referrals – ever.
Works Out Of The Box:
You can customize Computta's settings if you choose to do so, but you don't have to. The software works right out of the box.
How Does Computta Work?
Computta application
can be downloaded online from
Computta
site. You can install it on as many computers devices as you like to start generating passive income. It's a free download.
The developers claim that their average users earn $22.80 per month, while gaming computers earn an average of $78 per month. It is unclear if that refers to the total revenue generated - or the revenue minus utility costs.
The mining software functions similar to other cryptocurrency mining software. You install it, the software runs a benchmark, and then you start earning revenue.
Computta claims to work with no hidden fees and no costs to you. It's a 1000% free software program. However, if you read the fine print, you will discover that Computta will charge a fee of 25% of your personal profit.
You can also continue to use your computer while the "
Computta Smart Miner
" works in the background. The miner's settings do not affect your gaming or work on your device. You can also turn on "
Smart Mode"
if you need extra resources for certain applications.
Also Read
:
How to Use #Hashtags To Increase Your Online Presence
[post_ads_2]
Computta's Referral System:
THIS IS HOW YOU CAN BOOST THE POWER OF COMPUTTA 50X!
The
"Computta Smart Miner"
is just one part of the Computta system. The other part is the "referral system", where you can earn additional money by referring other people to the platform. Here we attached a link of
Referrals Commision Calculator
. Use the calculator to see how much you can realistically earn in passive monthly income just from commissions from your referral network.
Click here
!
Computta's developers claim their average members earn
$250+
per month through commissions within three months of joining. Users who invite 10 referrals to the platform "will generate a referral network of 2900+ sub-affiliates", on average, according to the site.
Computta has a 5 tier affiliate program
. You can participate in this affiliate-program simply through your referral link. There is also an affiliate achievements system where Computta rewards high-end users with one-time payouts or higher commissions.
The Affiliate Program:
Their affiliate program is also a good way to regain some of those fees along with obviously promoting the companies program to others. You'll earn 10% of what your direct referrals make, 5% from tier 2 & 3 referrals, 3% from tier 4 and 2% from tier 5.
See the image/photo below for a better idea of what that means. Now, this practice may make your hairs stand up on end as it's similar to what Multi-Level-Marketing use to entice more members. However, there are some BIG differences here:
There is a REAL product here "the mining & selling of cryptocurrency".
You're never asked to pay money to buy a product to sell to others.
You can make money without referring a single person.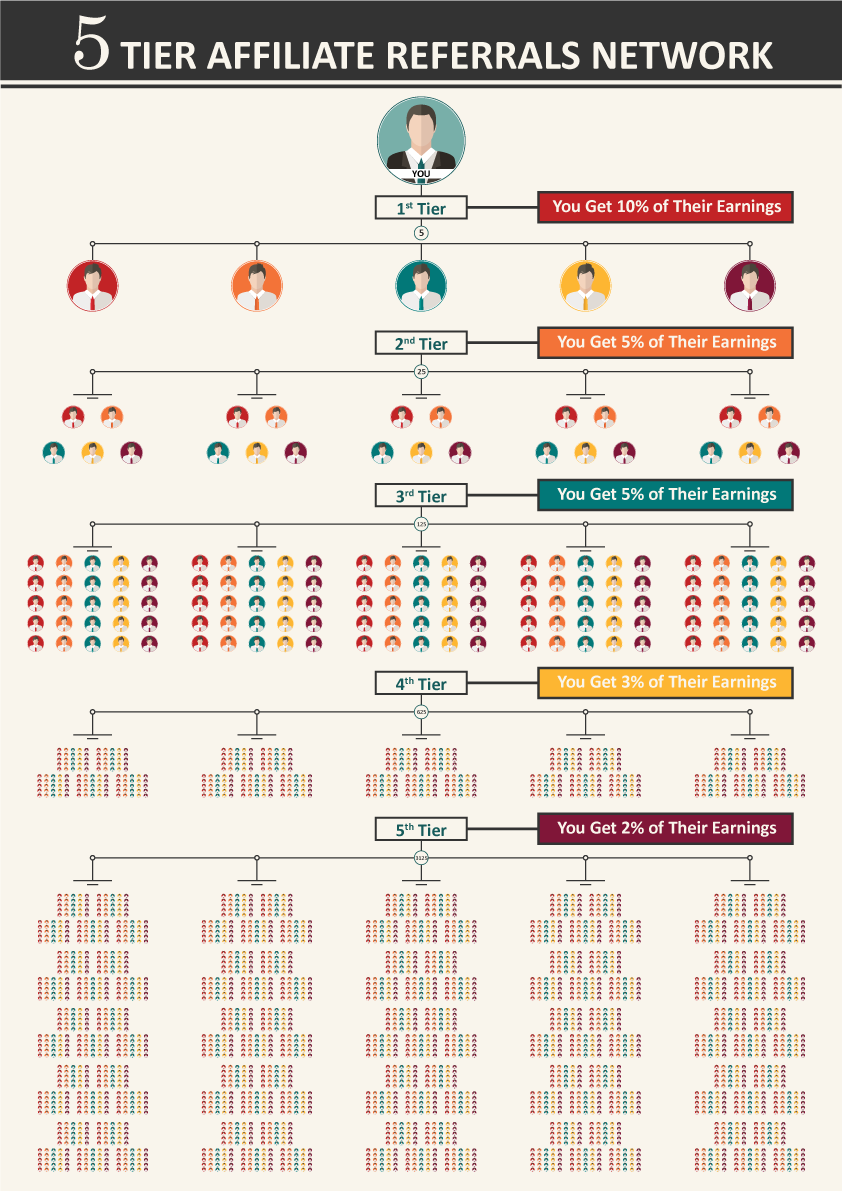 So Is Computta a Scam?
The short answer is "NO"!
Is it worth you doing?
Maybe, it depends on your circumstances.
For the creation of the program, a super simple way to start mining, an easy way to track your profits and the added bonuses from referrals, and its ability to swap digital currencies to maximise profits,
Computta
takes
25%
of the total profits and charge you no other fees "this includes no transaction fees too".
Now those of you out there who run your own mining rigs may see this as too steep a fee, but I put it to you that this program could still make sense for experts:
Computta is great for those with no technical skill who want to start mining "bitcoin" cryptocurrency immediately. It is also great for experts who want to set up mining on friends and families PCs and not have them bothered by complicated program setups or poor PC performance.
How to Become a member of Computta?
Now, this is how it works in simple steps:
You register for an account on Computta Click Here.!
You get redirected to Member and Affiliate Area where you download Computta Smart Miner
You install the application on your computer and all computers that you own or control.
You go thru our 2-click setup and immediately see how much you can generate from this device
All Done. Just sits there working silently in the background generating your money for as long as you have your computer power on.
You can withdraw your earnings at any time from your Member Account when it hits the required withdrawal minimum. Currently, computta will send your earnings in Bitcoin to your Bitcoin wallet.
But computta also work on solutions to withdraw earnings directly in USD and at least one other alternative method to suits all possible needs. :)
Members Reviews:
I came across Computta during their beta-testing. After a recommendation from a gamer friend I installed their smart Miner app on computers in our office and now and immediately started seeing a difference. Sure a single computer just makes $20-$25 per month. But if you consider over 30 computers - that's a power you can't ignore. Now they pay for their own power and buy us office coffee too!
- Mark Pendergast, SEO Agency Manager
Hey, it's a new gem in the pile of cryptoanarchy, LOL. I mean my 3 workstations together got me over $200 bucks the first month. Not shabby at all... I also started giving away my referral link to my freelancing friends and now I also see a trickle of mBTC as commissions from them. Best part? I do not do anything at all!
- Ryan Lee, Freelance Web Designer
Thank you
for taking the time to read through my article. Please share this post if it was helpful to you and I would greatly appreciate you using my referral link to sign up:
Click Here
!
I spend 5-7 hours on this Article to wrote and clear everything to You. Share this Post with your friends and colleagues.
Until next time!
Happy Bitcoin Mining...